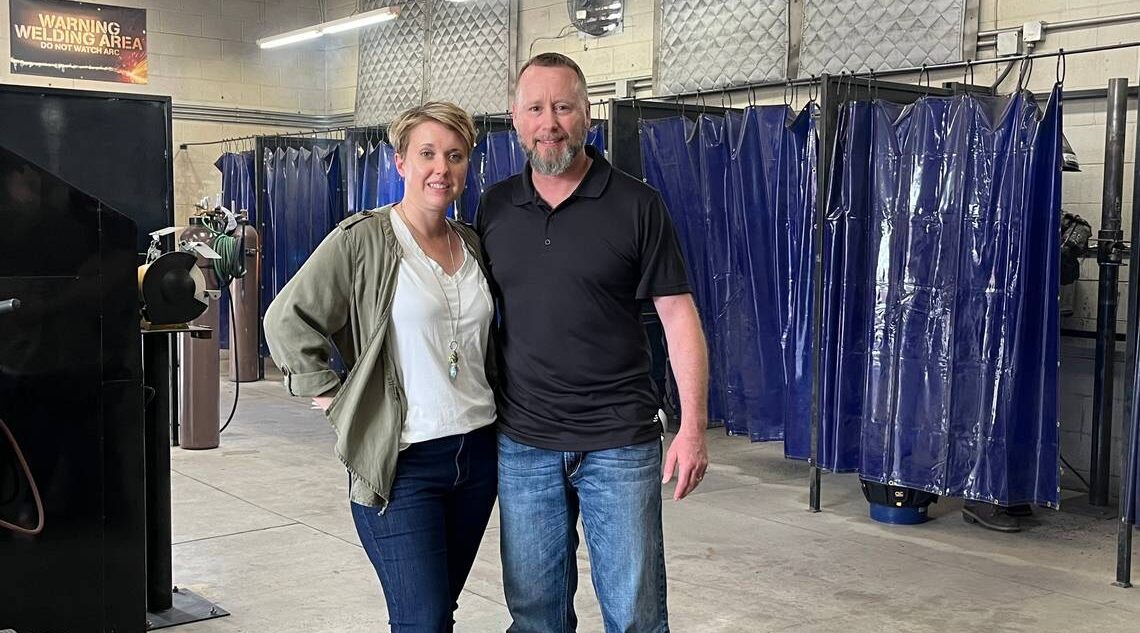 When the EF-3 tornado struck Andover April 29, the first concern for Jessica and Charles Friedrichs was their home, which ended up being fine, followed by the new building they'd purchased for their Heartland Welding Academy.
Once it was safe, Charles Friedrichs drove to 656 N. Andover Road and was relieved to see the Andover Antique Mall was not hit.
That's where he and his wife are moving the trade school, which they started in September 2018 with four students in 8,500 square feet of rented space at 338 S. Ida in Wichita.
They now have 40 to 60 students a year. "We have outgrown our current facility," Jessica Friedrichs said.
The antique mall will remain in business in the almost 29,000-square-foot Andover building, which it's been in for more than a quarter century, until June 30. Then the Friedrichses will spend some time constructing office and classroom infrastructure along with making updates, including adding some curb appeal, before opening in the space in January 2023.
The two moved here from Houston to start their welding school and raise a family.
Charles Friedrichs has worked in the Midwest before and said there's a good work ethic and employer loyalty here.
"I come from the power industry," he said.
He started in pipe welding and evolved through formal education into more of an executive business development role.
"We truly believe in the trades and wanted to pay it forward," Friedrichs said.
"There's a lot of growth in the trade," he said. "If you can plant the seeds right as a mentor, and the students (are) willing to put in the work, there's a lot of potential."
The two say they're passionate about the field and helping others discover their potentials.
Jessica Friedrichs, who has a background in marketing and communications, said that while in high school, "You were told the only way to be successful is to go get a four-year education."
What she saw was "all this debt compounded" while some people "were still working two jobs."
She said it doesn't have to be that way.
After the Heartland Welding Academy's six-month certification program, she said students can graduate and make $21 to $26 an hour for entry-level jobs that also have benefits.
Jessica Friedrichs said there is a lot of opportunity for advancement, too.